"We always guarantee the lowest pricing or we will beat it." —Harrison Fu, Sunjoy Group Inc.

Everyday low pricing is in the character and essence of Sunjoy Group Inc. It's a core value the supplier communicates to their distributors consistently, making sure they understand that Sunjoy's offer really is the lowest pricing in the industry. "We always guarantee the lowest pricing or we will beat it," says Harrison Fu of Sunjoy. "Besides having the lowest pricing, we also offer the widest variety of product options in the marketplace."
For example, Sunjoy has the following options for its most popular Swivel USB drive: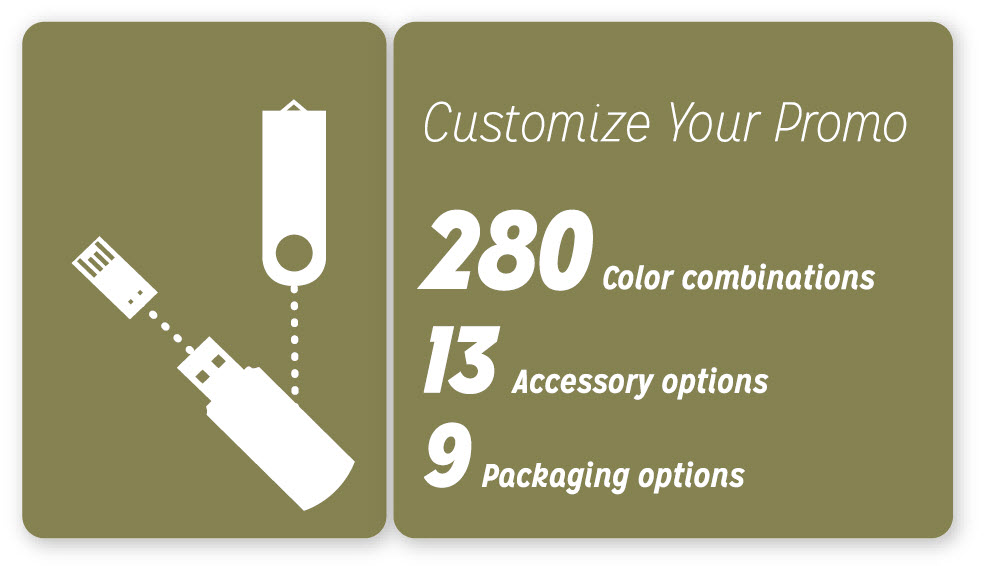 35 free housing colors + custom colors (with extra fee)
8 free clip colors + custom colors (with extra fee)
13 handy accessory options
9 convenient packaging options
All USB programing services provided
Fast and multiple turnaround options
24 hour U.S. shipping
5 Day, 10 Day or 15 Day in hand delivery
For distributors that are highly concerned about quality, please be aware that Sunjoy uses many of the same manufacturers that other large suppliers do. There is a key, critical difference, however. "We have the most sophisticated Total Quality Management (TQM) process to manage each individual order," Fu says. "Also keep in mind we have a facility and sophisticated equipment to test each order before we drop ship to your customer." Our extreme quality conscious distributors can rest assured of their orders.
It is seems to be a contradiction to offer the best pricing, biggest variety and most reliable quality. But Sunjoy takes pride in making the impossible possible. Fu explains: "We accomplished this after eight years of continuous improvement and innovation."
The biggest challenge for the promotional products market is that each order is custom made and/or imprinted. The Sunjoy method is to get every product item, options and processes standardized though its 'centralized' online system and platform. Then, not only can Sunjoy members easily get access to the information a customer needs, but also the customer and vendor get access to the same kind of information in a unique, unified way." After the items are standardized, the entire order process becomes very straightforward. "You can easily customize your product online with clicks," Fu continues. "The order can be placed from customer to vendor with simple clicks. Above all, our vendor prepares all the components based on our predefined 'item' profiles so that the entire order process will be much smoother than that of any other suppliers. Guaranteed!"
Seamless communication and collaboration are key drivers for supplier chain efficiency. The challenge for the promotion product business is communication since there are so many custom features on each individual order. Sunjoy understands the end-customers' promotional needs, and then converts those needs into the final product using our unique "customization" process with minimal variance and meeting customers' requirements and expectations on time, every time. "The Sunjoy system makes communication crystal clear and seamless," Fu says. "First, we have a unique customization process that helps to get all the descriptions into standardized 'options' to avoid any misunderstanding. Second, all of our communication to the customer and/or vendor is clearly recorded in the same 'centralized' system, all related to the right quotation or order number. Third, we have pain-takenly standardized different workflows for various programs so that each individual involved can easily track their orders as a whole and then work with customers and vendors proactively."
Sunjoy systemizes many unique and automated processes to streamline communication and minimizing potential communication failure. "Our proof process is a good example of this. The proof can be created either by Sunjoy, by the customer or the vendor," Fu says." Once the proof is approved, the information is shared right away with all the parties. Then everyone gets the same consistent type of information from the original communicator and the failure rate on the communication is minimized to almost zero.
"Productivity is in every Sunjoy employee's DNA," Fu adds. "Our daily communication to our employees is that we should utilize all our means to make ourselves more productive. Then we can truly bring significant savings to our customers, the distributors. Nowadays, everyone can easily access the same kind of readily available resource. Why should the distributors buy from Sunjoy and not other suppliers? Because, we are much more productive, efficient and create more lasting 'Value' – which translates into more real dollars for our customers."
Fu recalls a Sunjoy vendor sharing an example of Sunjoy's productivity: "He told me this story when I visited the factory," Fu Says. "At the beginning of Sunjoy's USB business, all the other suppliers hide pricing from the public. Sunjoy was the only open supplier to put public pricing online. When bidding with other suppliers on the same big orders, we could offer the pricing right away. There were many times when the other supplier came back to the same vendor SunJoy was using for better pricing, the same orders were already in production"
To learn more about how Sunjoy's unique innovation can bring you more savings, delivered on time at the lowest pricing and best quality, visit
www.sunjoy.us
.